YouTube Suspends Trump
By Steve Watson of Summit News
Falling into line with the ongoing purge, YouTube has suspended President Trump, claiming he uploaded a video that violates its polices.
Trump will be banned from the platform for a week, effectively until the end of his presidency, with comments on all other videos on his channel also disabled indefinitely due to 'safety concerns'.
YouTube also stated that the suspension was enacted due to the 'ongoing potential for violence':
2/ Given the ongoing concerns about violence, we will also be indefinitely disabling comments on President Trump's channel, as we've done to other channels where there are safety concerns found in the comments section. https://t.co/1aBENHGU5z

— YouTubeInsider (@YouTubeInsider) January 13, 2021
The Google owned company said the suspension may be extended beyond a week, stating "in accordance with our long-standing strikes system, the channel is now prevented from uploading new videos or livestreams for a minimum of seven days – which may be extended."
In the videos that Trump uploaded to YouTube, prompting the ban, Trump said that big tech is making "a catastrophic mistake" in its actions to silence him, and that it is intent on "dividing people".
The Trump team uploaded several videos to YouTube Tuesday night and it is not clear which one 'violated' YouTube's policies. However, the videos appear to have been clips from his speech in Texas, which TV networks also refused to carry.
The full speech can be viewed below: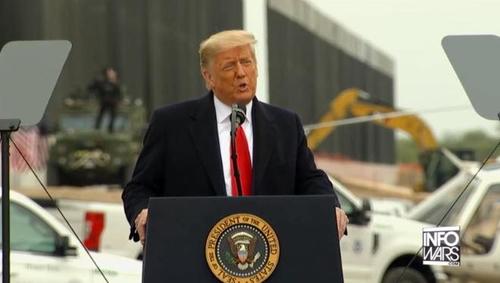 Farage said that Democrats are "so certain of their moral superiority, so filled with hatred and contempt, not just for Trump, but for the values of tens of millions of Americans, that they're going down a course where this guy could be martyred or silenced."
"That is the biggest mistake anybody could make at this moment in time. Donald Trump didn't radicalise tens of millions of Americans. Tens of millions of Americans had already become upset about the mainstream media, increasingly distrustful of social media, had a loathing for Washington and the way that it operates," Farage added.
"If you take Trump out of the picture then what follows Trump, what follows Trump could be very sinister indeed," Farage urged, adding "So I would urge everybody… they won't listen, I know, but I would urge the Democrats not to be vindictive, and I would urge social media platforms to think again. Otherwise, I think America could be heading into a very, very bad place."
Listen:
Tyler Durden
Wed, 01/13/2021 – 07:33
Michael Novakhov's favorite articles on Inoreader